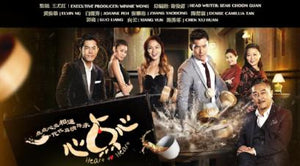 Heart to Heart 心点心
---
---
Yue Xiang Lou is an old teahouse that no longer bears its former glory. Currently owned by Yue Tian Hua (Guo Liang), the teahouse is struggling to survive. Just as Tian Hua is trying to sell off the teahouse, a young man appeared and jeopardised his plans.  To his surprise, he turned out to be Yue Wen Guang (Elvin Ng), Tian Hua's long lost son who left him at an early age with his mother.  
Wen Guang knew he wanted to bring the teahouse back to its past glory. But he must first convince Na La (Joanne Peh), who had inherited great culinary skills from her father, Liang Gui (Rayson Tan), the previous head chef of Yue Xiang Lou, to help bring the teahouse back to success. But Zhou Gang Sheng (Zhang Yao Dong), a wealthy heir from Hong Kong, sets out on his quest to take over the teahouse.
The matter is worsened when, despite Wen Guang's efforts, his relationship with Tian Hua continues to suffer. Will Na La agree to help revive the past glory of the teahouse? Or will Gang Sheng succeed in his ill intentions, leaving the teahouse, and the father-son relationship in shambles?
Episodes: 25 x 60 mins
Cast: Elvin Ng, Joanne Peh, Zhang Yao Dong, Guo Liang, Denise Camillia Tan, Rayson Tan, Xiang Yun, Chen Xiu Huan
Languages: Chinese
Production year: 2019