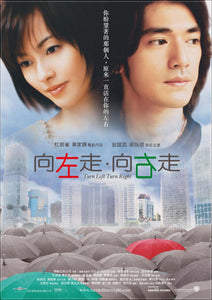 Turn Left, Turn Right 向左走向右走
---
---
Dashing John Liu is an aspiring violinist and Eve Choi is a professional translator. Like millions living in a large city, both leads lives of wistful solitude. Living in the same apartment building and separated by one thin wall, John and Eve may have brushed shoulders in the crowd a hundred times, but somehow their paths never cross.
One day, while walking around a circular fountain in the park, they finally bump into each other. They spend a lovely day together but their encounter is cut short by a sudden shower. After exchanging their phone numbers, they quickly run home. For the first time in their lives, they no longer feel alone. But fate does play a cruel joke as they both discover the next morning the rain smudged the phone numbers on their precious scrap of paper. Does this spell the end of their serendipity or will fate give them a second chance?
Turn Left Turn Right is based on the best-selling illustrated love story of the same title by renowned Taiwanese author/artist Jimmy Liao.
Cast:
Takeshi Kaneshiro and Gigi Leung
Director:
Johnnie To and Wai Ka-Fai
Duration:
96 mins
Languages: Chinese